GrassGreen!-Packaging
---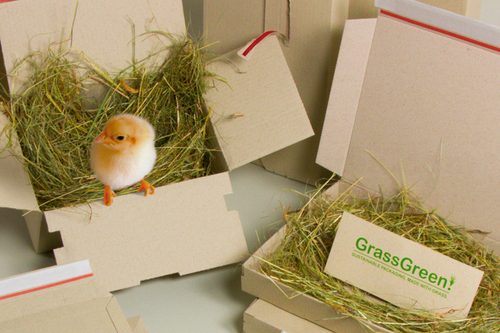 Discover the Advantages of Innovative Packaging with Grass Fibre Content
1. Eco-Friendliness
Quickly renewable raw material, protects the forests
Regional origin of unused agricultural land or compensation areas
Reduced CO2 emissions through lower energy consumption during production
Significantly lower water consumption than in pulp production from wood
Minimal use of process chemicals in production
Up to 40% grass content, the remaining part is of course made of waste paper fiber
100% recyclable cardboard material
2. Attract Attention. Strengthen Your Image.
The first experience of the recipient is the visual and haptic effect, which
immediately conveys 100% of the ecological properties of the packaging.
While brown or grey is no longer perceived as a standard in the mass of shipments,
this product immediately attracts a high level of attention and directly demonstrates
the sender's ecological responsibility.
3. Safety & Protection
The properties of the grass material are comparable to other boxes made of
recycled paper fibre; thus our packaging remains as protective as ever.
With our assortment products made of grass cardboard you can be sure that in
addition to the grass fibre content, the remaining part is made of 100% recycled
paper fibres. Please pay attention to this!
4. Diversity
Take advantage of quickly available stock products:
from the small FIXCOLL compact envelope
via the stable BRIEFBOX mailers
to the popular POSTBOX for postal and parcel shipments
Or just make use of the numerous possibilities
which we offer you with individual development and bespoke production:
Really smart packaging solutions according to your wishes,
whether in an envelope design, as a folding box or bookwrap,
attractively printed, embossed or "natural" without.
---